access_timehourglass_emptyperson_outline
Coming up with great website ideas can be tough. To make it slightly easier, we'll overview 7 top opportunities for an online side business.
Earning money on the web is a pipe dream for a lot of people. We've all heard of individuals who have made huge figures from their websites without doing much work (or at least that's what they claim).
Still, finding website ideas that can actually make you money – and realistic explanations on how to get started – can be a challenge.
They are out there, however, and chances are at least one of them will be a solid fit for your needs. Here are the websites ideas we'll explore in this article, each of which can be a source for monetization:
Affiliate blogs
Small online stores with a focus on dropshipping
Reseller hosting
Online learning websites
Job boards for specific niches
Service websites
Websites you can sell
These are all website ideas that almost anyone can develop with some guidance. Plus, they can earn you some decent money without taking up all of your time – if you play your cards right. With that in mind, let's get to work!
Get started with your website and try Hostinger today! 30-day money-back guarantee.
Get Started Here
Should You Start an Online Side Business?
You'll run across a lot of articles and blog posts featuring stories about people who've made a lot of money for very little online work. Those stories – with a few exceptions – are usually gross exaggerations designed to get you to sign up for expensive online courses or buy into various tools and solutions.
The truth is that starting an online business is possible for nearly anyone as long as you have two things:
Time to develop it.
Some capital to get you started.
Some types of website ideas are more expensive to tackle, whereas others require more of your time, and a few require a significant investment in both areas.
Take affiliate blogging, for example. Setting up a blog from scratch is remarkably cheap these days. You might spend around $10 on domain registration, and a starter shared hosting plan will probably cost you around $5 or less per month, depending on which provider you choose.
If you go with Hostinger, you'll get a free .com; .xyz; .net; or .online domain registration with all annual website hosting plans – which is everything you need to go online!
Aside from that, you can set up WordPress effortlessly with a robust auto installer. Then it's just a matter of signing up for affiliate programs and creating content.
Of course, it's also important to realize that it will usually take a few months before you start seeing results, and that's if you're posting new content regularly. As your library of posts grows, you'll get more and more traffic pouring in from search engines.
However, a lot of people expect to create one or two articles and start raking in the money, then give up when they don't see immediate results.
We'll talk more about affiliate blogging in a moment. For now, suffice it to say that all the website ideas we're going to discuss in the next few sections require a significant investment of time, money, and sometimes both.
If you think you're in a position to make those investments, however, the results can be well worth it.
7 Top Website Ideas Overviewed
Each of the ideas we're going to explore below is a viable side business you can run even if you have another primary business or job.
However, the more time you can spend on each one, the faster you'll start to see results. With enough effort, you can even scale all of these into full-time endeavors.
1. Affiliate Blogs
Affiliate blogging is often very competitive since you only make money if you can drive sales.
We talked a bit about affiliate blogging already, but let's take it from the top. Affiliate websites use targeted content to promote products or services their visitors might be interested in. Then, they get a cut from each sale they drive to the makers or distributors of those products.
Take Amazon, for example. It runs the most popular affiliate program online, and if you sign up with it, you'll get paid for each sale made after someone clicks on one of your affiliate links.
If someone is looking for a new lawnmower, for example, they might encounter an article you wrote called "10 Best Lawnmowers in 2018". When they follow an affiliate link within that article and purchase a lawnmower (or anything else from the same website), you get paid.
The concept of affiliate blogging is simple. However, it has grown so popular that creating a blog that can compete takes more work than it used to. Still, it's very possible to make this a productive side business. It's a very scalable option since you can simply publish new posts as you have the time to write them. If you have the patience for it, your affiliate blog can eventually grow to earn you a respectable income, so it's one of the best website ideas to pursue.
With that in mind, here are a few tips you'll need to keep in mind if you want to give affiliate blogging a go:
Focus on a specific niche. For example, you might want to specialize in orthopedic shoes rather than footwear in general, so you can attract a targeted audience. Ideally, your chosen niche will be something you're already familiar with.
Research the best affiliate programs for your niche. Some niches have their own affiliate programs, which may pay out more than juggernauts like Amazon. In other words, doing some research before signing up can lead to higher profits in the long run.
Set a content schedule and stick to it. Once you make blogging a part of your routine, it will become easier to stick with it. Plus, publishing regular content increases the odds that your site will become profitable.
If affiliate blogging sounds like something that could be up your alley, then you'll want to follow a guide on how to start a blog.
Also, keep in mind that once your blog begins making you money, you might want to hire more people to help you create content and scale your site upwards.
2. Small Online Stores With a Focus on Dropshipping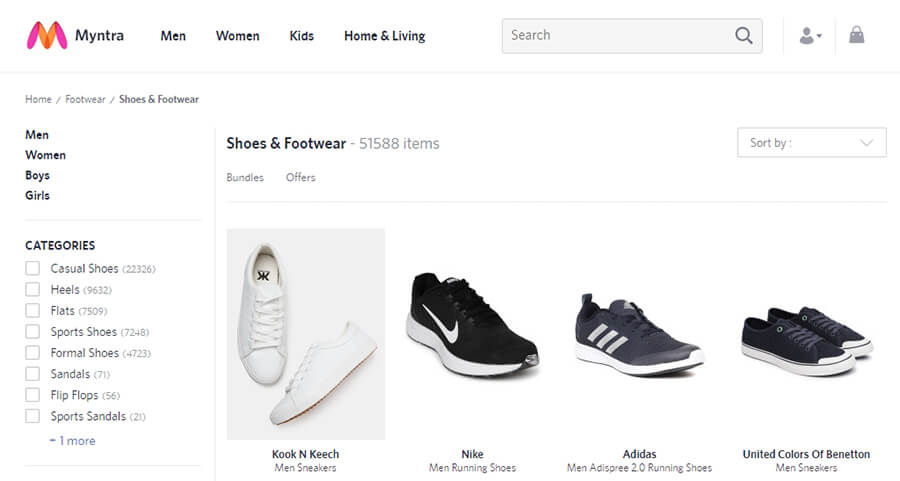 A lot of online stores don't ship items themselves but instead, rely on drop shippers.
Creating an online store is more involved than setting up a blog, as you might imagine. However, putting aside the technical aspect, the real problem with running an online store as a side business is that dealing with inventory and shipping takes a lot of time. If you're selling products you make on your own, then you're dealing with the kind of operation that can take over your entire schedule.
With that in mind, drop shipping is one of the best website ideas if you want to run an online store that you can manage as a side business. With drop shipping, you make the sale, and then someone else ships the product. They pocket most of the money, and you keep a cut in return for making the sale happen.
From your customer's perspective, they're buying from you, and they'll still get their items just as they expect. The benefit is that you won't have to deal with shipping, inventory, and customer support.
In other words, you can focus entirely on getting more traffic and optimizing your conversions. You'll also see less revenue from each item, but this can often be worth the trade-off.
If you're interested in setting up an online drop shipping store, we recommend using WordPress alongside WooCommerce. In addition, keep these two tips in mind:
Focus on a specific niche. Just as with affiliate blogging, attracting traffic for niche products is easier than trying to sell dozens of different types of products.
Look for drop shipping partners with a sterling reputation.  Products should get to your buyers on time and in good condition, so you don't get a bad reputation. Therefore, you'll need to choose your suppliers carefully.
As your store starts to grow, you can consider adding more products to your catalogue. At some point, you might even want to ship some items yourself, if you want to transition to online sales as a full-time business. Where you ultimately take the store once it's off the ground is up to you.
3. Resell Web Hosting
Reseller hosting is another great way to make a solid income on the side. Especially if you're well acquainted with website development.

The basic idea involves renting server space and using it to create your very own web hosting plans.
For example, reseller hosting plans on our sister project are powered by WHM and cPanel. This software will let you create custom limits and include/exclude certain features.
In addition, it has loads of other useful features that will make account management a walk in the park.
If you're thinking of creating websites for a living, reseller hosting is an excellent way to offer additional services to your clients.
4. Online Learning Websites

If you're an expert on a subject, you can earn money by teaching it to others online.
One of the best things about the internet is how it enables you to learn about anything. If you want to learn how to create a website, there are thousands of guides on how to do so. The same can be said for more practical topics, such as how to fix a lawnmower or perfectly boil an egg.
In some cases, however, the best learning materials are to be found behind paywalls. This makes sense, as well-paid educators are more likely to want to teach you how to do things correctly. So if you're particularly skilled in a subject or activity people might want to learn about, you have an opportunity to make money from it.
Imagine, for example, that you want to teach people how to create a website using WordPress. You can use that as a base and then expand into selling courses on how to monetize your blog, work on Search Engine Optimization (SEO), and so on. The more value you can provide to your students, the more likely they are to pay you over choosing free guides.
To make this happen, you'll need a website and a way to sell content online and process payments. While there are a number of tools that will let you sell online courses, one of the simplest methods is to use WooCommerce and a dedicated extension such as Sensei:

Keep in mind that just as with affiliate blogging, you'll need to work on attracting traffic if you want to make your website profitable. What many people do is put out free content on a regular basis, which is a smart way to get eyes on your site. Once you have traffic coming in, you can sell them on the benefits of your premium courses and start making money.
5. Job Boards for Specific Niches

Running a job board can be a lot of work, but you can charge people for posting or applying to positions.
So far, all the website ideas we've talked about have been relatively mainstream. At this point, it's time to go a little ways off the beaten path.
Many people now look for work online. However, finding the best job openings can be a challenge, because you have to look through a lot of online platforms and sort through all the bad or irrelevant offers. To avoid this problem, applicants can subscribe to premium job boards, which curate offers for them. That way, they can save time and only apply to the most likely job postings.
If you're the kind of person who can spot good job offers for a specific niche and you have the time to look for them, then there's no reason you can't set up your own job board. You can charge people a monthly fee in exchange for access and the chance to apply to openings. Alternatively, you can charge businesses to add listings to your job board.
Either way, you'll need to use a platform that enables you to set up a job board and process payments, and that's where WordPress comes to the rescue again. There are plenty of job board plugins you can use to add all the features you'll need to a basic WordPress installation. Once you've set one up, it's just a matter of finding offers and driving traffic to your website.
Just as with online learning sites, the best way to attract traffic from both employers and workers is to publish free content. With that in mind, setting up a profitable job board and growing it to the point where it earns you money can take some time, but it's a solid business model in the long run. Plus, if you run a business, you can post your own job listings for free!
6. Service Websites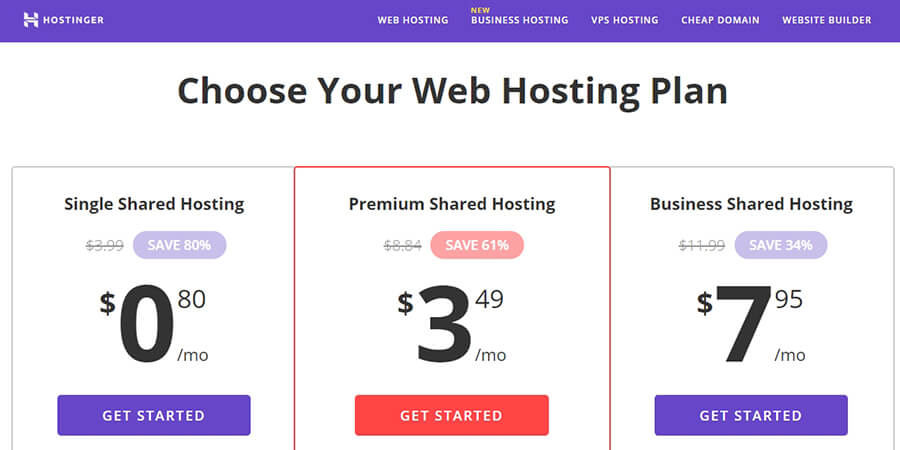 Service websites come in all shapes and sizes, including web hosting providers like us.
The term 'service' website can encompass many different types of businesses. For example, our own site is a service website, as we sell website hosting. In general, a service website is an online business that sells something valuable that isn't physical or digital products.
Chances are that if you assess your existing skills, you'll find there's a service you could provide online. This could be editing work, assistance with programming problems, or pretty much anything you can imagine. There are plenty of platforms where you can advertise your services, but having a dedicated website looks more professional and increases your chances of attracting attention.
Setting up this kind of website is also remarkably simple, thanks to platforms such as WordPress. All you have to do is design an attractive landing page, and include some information about yourself and the services you provide. If you don't have a budget to hire a copywriter, you can always use a content generator to write professional copy for you. We also recommend using pricing tables, since they enable visitors to get a quick overview of what you're offering.
Once you have a website all set up to promote your services, you just have to encourage people to visit it. Social media is an ideal tool for doing that, although personal networking can also be a useful approach. For example, you can hand out cards with a link to your website when attending local events.
As far as website ideas go, this one is pretty straightforward. You can accept as much work as you can handle, and if your site really takes off, you can easily consider scaling it into a full-time business.
7. Websites You Can Sell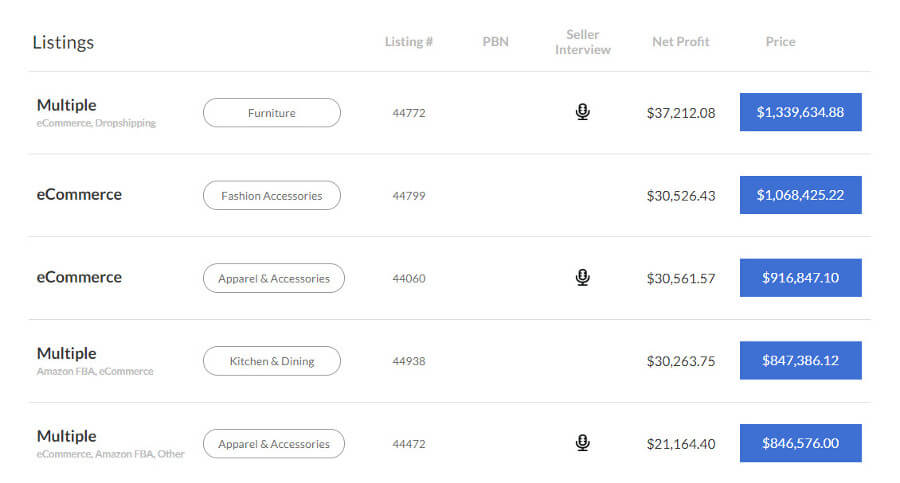 Popular websites can sell for truly impressive figures.
Finally, if you're great at coming up with website ideas and putting them into action, there's money to be made there. Any of the website ideas we've talked about so far have lots of potential. However, if you don't want to commit to any of them permanently, there's always the option to make a website and sell it instead.
There's a healthy market for websites with proven track records. For example, if you can show you have a site that makes you at least $500 per month, you shouldn't have much trouble finding someone willing to pay a good deal of money for it.
Keep in mind that there are a lot of websites that also sell for pennies on the dollar. What serious buyers look for are sites with at least a few years of history and provable incomes. You'll also often need to share traffic information, so buyers can verify that everything is on the up-and-up.
A lot of people don't start building websites with the intention of selling them. However, after a few years of work on the same project, you might find yourself burning out. In that case, selling your site is a better idea than just abandoning it.
From among all the website ideas we've talked about so far, the best types of sites to sell are affiliate blogs and online stores. There are also markets for online learning sites and job boards, although it can be harder to find buyers for those.
If you want to do some research on selling websites, there are two platforms you should check out. First up, Flippa deals in small-to-medium sites that command a moderate price: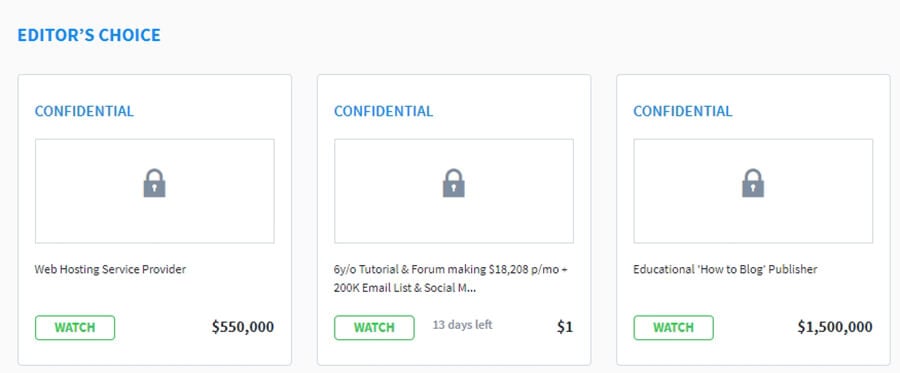 Empire Flippers, on the other hand, is a far better option if you have a website with seniority and a provable income: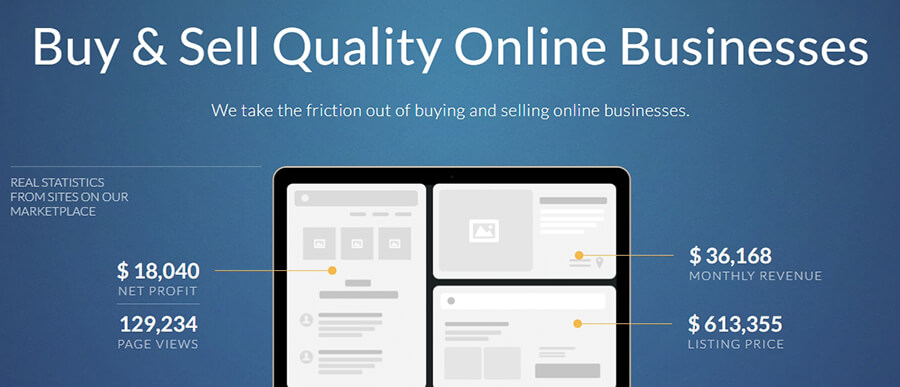 These sites can help you find buyers willing to pay a lot for a well-designed and successful website. With time and patience, this can become an interesting side business.
Conclusion
Developing most website ideas takes time. However, there are a few types of sites you can tackle that work perfectly as side projects. For example, anyone can take a crack at affiliate blogging and publish content whenever they have the time for it. That's just one of many website ideas you can pursue, however, so you can choose whichever one you feel most comfortable with.
What do you think are the best website ideas for an online side business? Share your thoughts with us in the comments section below!