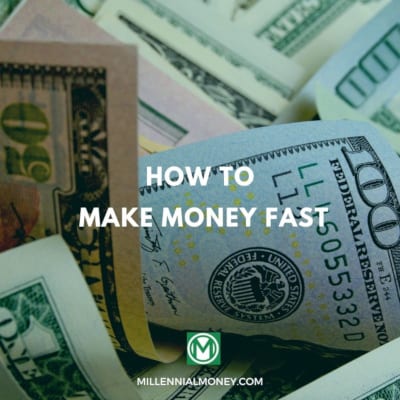 This article includes links which we may receive compensation for if you click, at no cost to you.
You need money tomorrow if not today. So I won't waste your time introducing this topic. There's no need for an introduction anyway, right?
You need to make extra cash fast. Here are some ways to start earning it right now:
37 Ways to Make Money Fast
These ideas fall into three main categories: doing tasks, selling items, or claiming "found money." The categories can overlap sometimes.
Here are the best ways to make money fast in 2020:
Survey Junkie: Take online surveys
Vindale Research: Market research
Postmates or DoorDash: Make deliveries
Teachable: Teach online
UserTesting: Review websites
Fiverr: Variety for freelancers
Care.com: Babysitting
Uber or Lyft: Make money driving
Taskrabbit: Do errands and chores
Upwork or Mechanical Turk: Freelancing jobs
Rover.com: Pet sit
Foap.com: Upload stock photos
Wegolook: Assess properties
Swagbucks: Complete online tasks
Inbox Dollars: Watch videos and play games
SecretShopper.com: Mystery shopping
FocusGroups.org: Join focus groups
Start Your Online Business
Worthy: Sell your old jewelry
Etsy: Sell your crafty talent
Decluttr: Sell your old stuff
Consignment Shops: Sell your unwanted stuff
Garage/Yard Sale: Clean out your closets
Pawnbroker: Pawn items you no longer use
Amazon: Become an online seller
Sell Your Plasma: Donate plasma near you
Sign Up Bonuses: $50 right now
Ibotta: Better than coupons
TrueBill: Cut out unused subscriptions
Paribus: Let apps find you refunds
Rent Your Parking Spot
Airbnb or VRBO: Rent out your home or extra room
GetAround: Rent your car
FreeCarMedia.com: Put ads on your car
Rakuten: Get rebates
Trade-in Gift Cards
Refinance Loans: Get a lower interest rate
Doing Tasks: Trade Time For Money
Trading your time for money is a reliable way to make extra cash. Unlike with a full-time job, you can do these tasks on your own schedule.
These ideas offer more freedom than a full-time job but less money in most cases.
1. Survey Junkie: Start Earning Right Away
Earning Potential $200/mo
Survey Junkie is my favorite way to make money online in my spare time.
You could earn up to $45 for a 20-minute survey. But most assignments on this survey site pay between 50 cents and a couple of bucks per survey.
Survey Junkie's platform tells you how long each survey would take before you get started. So you can decide whether the survey is worth your time.
Your earnings will depend on how much time you're willing to give!
Side note: Many sites say they will pay you for your opinions, but not all are legit. Check out my best places to take online surveys list to ensure you find one that is.
2. Vindale Research: Compensates in Cash
Earning Potential $0.25 – $50/survey
Unlike many other paid survey websites, Vindale Research shows your compensation in cash (instead of points), making it easy to see exactly what you're earning.
You can expect anywhere between 25 cents and $50 for paid surveys, depending on the time requirement, topic, and demographic criteria of the survey.
And surveys aren't the only earning opportunities with Vindale either. This platform has more task variety.
Next Steps:
3. Deliver for Postmates or DoorDash
Earning Potential $18 – $25/hr
If you live in a city, you've probably noticed people spending less time in stores. The delivery industry is on the rise, so take advantage and get paid!
Use your spare time (or even your lunch break) to side hustle for extra cash.
Can you really earn that much? YES. By delivering for Postmates, I saved up enough money to buy an engagement ring!
Seriously – you could make $500 this week by completing 50 deliveries.
Food delivery is on the rise, too. DoorDash, GrubHub, and many other apps have really taken off.
There are 3 easy steps: drive to a restaurant, pick up the food, deliver to the customer…get paid. It's that easy!
You're limited only by time if you live in a well-populated area.
Bonus: It seems that everyone I know is getting their groceries delivered. Instacart allows you to become your own boss and make cash for deliveries.
Next Steps:
4. Teach an Online Course
Earning Potential $500/mo
You can make money teaching anything as long as you know a little more than someone else.
Are you good at guitar? Pick up some extra cash by helping others master their passion for music. Are you artsy? Teach someone how to design, craft, or master lettering. Are you into fitness? Teach someone how to get fit.
In 2020, it's never been easier to teach something in person or – even better – online.
Why is online better? Because you can use a platform like Teachable to develop an engaging, interactive course, and then earn easy, passive income thereafter.
Say it again for the people in the back!
Put in the up-front effort to build a meaningful course based on your unique skills and experiences, and then collect checks for months (or years!). The ROI on your time could mean you'll never Google "how to make money fast" again.
Next Steps:
5. Review Websites in Exchange for Cash
Earning Potential $10/review
Over the past few years, I've been reviewing websites for quick cash paid via PayPal. My favorite and trusted website review platform is UserTesting.
No, this is not an affiliate link. I do not get paid to promote this site. In fact, I only recommend apps or personal finance tools that I personally use, believe in, or have reviewed thoroughly.
6. Fiverr: A Freelancer's Headquarters
Earning Potential Varies/skillset
On Fiverr, you can connect with people who need your freelance skills. No matter what your side gig happens to be — from data entry pro to voice-over artist — Fiverr offers a transparent platform to connect with the market.
Freelancing lets you make your own schedule, but it may take longer than a couple of days to develop a steady client base.
Next Steps:
7. Babysitting on Care.com
Earning Potential Varies/client development
This tried-and-true money-maker isn't just for teenagers anymore. Sites like care.com help you connect with people who need professional child care or even pet sitting services.
You'll need to start an account and prove your credentials. If you can connect with a few clients, you could have yourself a part-time job.
Next Steps:
8. Uber or Lyft Driving
Earning Potential $100/day
Over the past decade, Uber and Lyft have revolutionized ride-sharing. By becoming a driver you can make money on the side on your own schedule in your own car.
You'd need your own car and your own car insurance policy. Your car would have to meet certain safety and comfort requirements so if you're still driving that 20-year-old lemon, it may be time for an upgrade.
Uber Eats now offers another way to deliver food. If you live in a city, you can develop a nice side income if you're willing to spend your free time in the car.
9. Taskrabbit Chores & Errands
Earning Potential $25 – $35/week
Can you do odd jobs like installing a wall-mounted TV or eliminating a wasp nest under an overhang? How about putting together furniture or running an errand?
Taskrabbit.com can connect you with people who need these kinds of tasks completed.
Next Steps:
10. Freelancing on Upwork or Mechanical Turk
Earning Potential Varies/accepted jobs
Whether you're a virtual assistant, a freelance writer, or a graphic design pro you can find freelancing work on Upwork or Amazon's Mechanical Turk platform.
You'll need an internet connection and some free time. Unfortunately, these jobs don't always pay much, but you can choose only the jobs you want. Mechanical Turk often pays with Amazon gift cards.
11. Pet Sitting or House Sitting
Earning Potential $50/week
If you have free time and live in the right place, you could house sit/pet sit through TrustedHousesitters.com and other sites.
This works best if you can find an assignment in your city. Otherwise, your travel expenses may cut too deeply into your earnings.
Next Steps:
For a site-specific to pet sitting, check out Rover.com.
12. Taking Stock Photos
Earning Potential Varies/assignment
It's gotten more difficult to earn a side income from taking stock photos since the market is so saturated, but I still like Foap.com because it's integrated into your smartphone.
If a brand manager needs a certain kind of photo for an ad campaign you can provide it quickly and for cash. Just take a photo and upload it through the iPhone app.
13. Assessing Properties
Earning Potential Varies/assignment
People who need to buy a property sight unseen have a dilemma: Can they really trust the salesperson to tell them about flaws or downsides?
They need someone close by to go take a look at the property — whether it's real estate or a vehicle — and report back. You could be that helpful person if you have a smartphone and some extra time.
Wegolook.com offers a place to start.
14. Swagbucks
Earning Potential $1/day
You won't make a lot of money on Swagbucks but if you could work the platform's tasks into your everyday routine your earnings could add up in the background.
Swagbucks works like Survey Junkie except you have a wider variety of tasks to choose from. You could play games, watch videos, or search the web with the Swagbucks browser extension installed.
Each little task earns Swagbucks (worth about a penny). You could generate enough extra cash to pay your monthly Netflix bill.
Next Steps:
15. InboxDollars
Earning Potential $1/day
This is the same kind of deal as Swagbucks. You can take surveys, watch videos, play games, browse and shop online — all while gradually earning extra money.
Gradually is the key term with these kinds of platforms. You can take a more active approach and earn a little more deliberately. But these services work best when you work them into your existing daily routine.
What's even better is the $5 bonus you can get for signing up and giving it a try.
Next Steps:
16. Mystery Shopping
Earning Potential Varies/assignment
Be careful with mystery shopper scams. If you're asked to pay any money upfront, walk away. That said, getting in with a legitimate mystery shopper outfit can be a lot of fun and a way to earn extra money.
Marketforce.com and Secretshopper.com are great places to start. Often you'll get to keep the merchandise you bought while still getting reimbursed for it.
17. Joining Focus Groups
Earning Potential Varies/acceptance
Focus groups let you share your perspective while earning extra cash. Many focus groups work online now, especially with pandemic precautions in place.
I'd start at focusgroups.org which normally has about a hundred focus groups going at once. You won't be guaranteed a place in a focus group, but you have a decent chance.
18. Start Your Online Business
Earning Potential Depends/business type
Many of the ideas above would also work as side hustles of your own. You could earn money as a dog walker by advertising your services on social media. The same goes for teaching painting or guitar lessons. Some self-promotion, combined with your expertise, can do a lot for your bank account.
Expect some upfront costs if you'd like to make business cards or launch your own company web site. But social media really can provide the medium you need to connect with clients.
Selling Items Turns Stuff Into Cash
If you need extra money fast, an easy way to get it is to sell your unwanted things. We all have junk we're never actually going to use again.
You could make a lot of money selling stuff you no longer want. Depending on the value of your belongings, you could earn hundreds or maybe even thousands of dollars.
This isn't a renewable source of income in most cases unless you buy and resell items on eBay or Amazon.
19. Sell Jewelry You Don't Want
Earning Potential $100 – $1000+/item
Have jewelry from a previous marriage, an old high school class ring, or other items that you no longer wear? Sell it on Worthy.com, a jewelry auction site.
Anyone can sell jewelry online, including diamond rings, gold, platinum and gemstone earrings, bracelets, necklaces, watches, and other valuable jewelry. They'll even provide you with a GIA certified appraisal completely free.
Have gold or silver items that you no longer want? At over $1,600 an oz for pure gold, you could be looking at some serious cash! Sell at sites like: CashforGoldUSA, they'll even throw in a $50 first-time bonus!
Next Steps:
20. Sell Your Crafts on Etsy
Earning Potential $250+/mo
Do you have a passion or hobby for making things? Are you crafty?
It is so easy to sell things online in 2020 and make an extra $500. Why? There are platforms such as Etsy, which make it easy to connect your product with potential buyers.
Are you into quilting? Do you make jewelry? Do you like making surfboards? Sell your goods online by opening your own Esty shop!
Check out Millennial Money's side hustle master class. It is worth your time, I promise!
21. Sell Stuff on Craigslist or Decluttr
Earning Potential Varies/items sold
Got old DVDs, tablet, cell phone laying around? Trade your phone in for $100s. You'll even get a 10% trade-in bonus (up to $50) at Decluttr with code SELLMYCELL10. They buy a lot more than cell phones.
If you're looking for a more local approach, Craigslist — one of the original online marketplaces — works whether you're selling a prom dress, a used car, or a set of cookware.
If you arrange a meet-up, insist on a location that's well-lit and well-populated. More and more police stations now have safe zones in their parking lots with live camera feeds to deter theft.
Next Steps:
22. Sell Items on Consignment
Earning Potential Varies/items sold
Consignment shops can sell your stuff for you. They'll take a percentage of your profits but they'll also keep your clothes, electronics, jewelry, musical instruments, or even your car, in front of buyers without you having to take an active role.
Just Google consignment stores in your area, or check out our post on all the best online consignment shop options.
23. Have a Garage or Yard Sale
Earning Potential Varies/items sold
This sounds old fashioned but you could turn your garage or front lawn into a store with your unwanted items as the inventory. You'll need price tags, signs to put up around the neighborhood, and some social media posts to advertise your sale.
You'll also need a good sense of haggling with buyers.
24. Pawn Items for Faster Cash
Earning Potential Varies/items pawned
A pawnbroker will pay you immediately for your unwanted items. The broker won't pay as much as you could earn selling your stuff outright, but the payout can happen immediately.
Later you could go buy back your items at a higher price. If you don't someone else may eventually buy them from the pawnshop with the proceeds going to the pawnbroker and not you.
25. Start Selling on Amazon
Earning Potential Varies/items sold
A lot of small businesses sell items through Amazon. What an amazing way to connect to buyers around the world.
Individuals can also become online sellers. Your books, CDs, clothes, collectibles, dishes, appliance parts — you name it — could find a new home through Amazon.
People with a strong sense of the entrepreneurial spirit like to buy items at a low price and then sell at a higher price. This takes some commitment, but you can generate a decent side income.
26. Sell Your Plasma
Earning Potential up to $50/donation
Plasma is the liquid part of your blood. People donate their plasma and earn up to $50 per donation. You'd need to be healthy and have healthy habits.
Don't base your financial stability on this but you can read more here.
Finding Money In Bonuses, Rental Income, and Ads
You can claim free money just by signing up for some services and apps. You could also rent your car, rent out a room, or even sell ad space on your car.
Some of these methods do require some work from time to time.
27. Take Advantage of App Sign Up Bonuses
Earning Potential $55/now
Cash in on the following sign-up bonuses available through MillennialMoney.com and you will find free cash.
Current Sign Up Bonuses:
Swagbucks: $10 welcome bonus! Swagbucks is a get-paid-to site with lots of different tasks available to earn money. You can take surveys, watch videos, search the internet, etc.
Ibotta: $20 welcome bonus! Ibotta is also a cashback site and app. It is most frequently used for groceries but now offers cashback on many products.
Rakuten (formerly Ebates): $10 welcome bonus! Rakuten is a cashback/coupon shopping site. If you shop online through Rakuten you can earn cashback on your purchases.
MyPoints: $10 welcome bonus! MyPoints your daily rewards program is yet another cashback website that works similarly to Ebates.
InboxDollars: $5 welcome bonus! You can earn dollars for small tasks such as taking surveys, watching videos, and signing up for offers.
28. Download Ibotta for Free and Make $20 Now
Earning Potential $20/now
Ibotta is a legit way to earn extra cash, just by shopping for things you're buying anyway. Plus, they're offering a $20 sign-up bonus right now.
Ibotta is a cashback and rewards app that started in the grocery sector but now has rewards for almost anything. Unlike some of the other cashback companies, Ibotta rewards you for shopping online or in-store, which I find more convenient for groceries and local shopping.
Next Steps:
29. Cut Out Unused Subscriptions
Earning Potential $200/mo
How many service subscriptions do you have? I have way too many to keep track of month to month, and I'm not alone. Forbes estimates that the average American spends $200-$300 EACH MONTH in subscription services. You set and forget, and companies know it!
Truebill to the rescue!
This free, money-saving app will comb through all your subscriptions and report out how much you are paying each month. It'll also help negotiate down some monthly subscriptions and allow you to cancel any that are not being used.
Next Steps:
30. Take Back an Extra $500 through Price Adjustments
Earning Potential $20/mo
Yes, you read that correctly. It's possible that a store owes you money!
A lot of the major retailers (including Amazon!) have price adjustment policies which state that if an item you bought drops within a certain period of time, then they'll refund you the difference.
But with as much online shopping as you probably do, who has time to monitor for price changes?
Similar to Trim, Paribus is a convenient and totally free bot that will do the heavy lifting for you.
Try it out; who knows how much you're owed! It could be a quick way to "earn" (back) $20, $30, or even to make $500 fast!
Next Steps:
Sign up for Paribus Note: Paribus compensates us when you sign up for Paribus with the links provided at no cost to you.
31. Rent Out Your Parking Spot When You Leave on Trips
Earning Potential $300/mo
If you live in an expensive city, you know how valuable parking can be. If you live downtown, renting out your parking spot will make you real cash, fast.
People in my apartment are renting out their parking space for $300/month!
If you leave with your car on the weekends, try an ad in your neighborhood. Put that parking space to work!
One company you can do this with easily is Neighbor.com.
32. Rent Your Home on Airbnb or VRBO
Earning Potential Varies/location and season
This can work if you have somewhere else to stay for a week or so while someone else lives in your home. Or you could rent out a room in your basement or attic, assuming you have the right facilities.
If you live in the right place — a city, the beach, or the mountains — or even by a lake during the summer — you could create a nice stream of extra income this way.
Next Steps:
33. Rent Your Car on GetAround
Earning Potential Varies/time rented out
If you have your own car, you could earn extra cash letting someone else drive it for the day. GetAround provides an alternative to the big rental car chains. You can provide the vehicle.
Next Steps:
34. Put Ads on Your Car
Earning Potential Varies/company advertising
I can understand your reluctance to doing this, but you could find some easy money in it. A few platforms will outfit your personal vehicle with ads for a company. You would get paid for providing the mobile ad space. You can start the process of advertising with your car at FreeCarMedia.com.
35. Sign up for Rakuten
Earning Potential Varies/your online purchases
Just about everybody knows about Rakuten — formerly eBates. This browser extension collects rebates as you shop online. Normally they're just a few percentage points, but the cash can add up over time.
You could get a monthly check or an electronic deposit. If you're buying something expensive like a refrigerator or a laptop, your monthly Rakuten deposit could be a lot bigger than you expected.
Next Steps:
36. Trade-in Gift Cards for Cash
Earning Potential Varies/amount of giftcards traded
You won't get face value for your gift cards, but if you have a card you'd never use, you could trade it in for cash on cardpool.com. This site accepts gift cards from most major retailers but not from Amazon.
37. Refinance Loans
Earning Potential Varies/loans refinanced
Getting better interest rates on your debt can ease the burden on your monthly budget and create more free cash every month. If you own your home, consider a home equity line of credit which lets you tap your home's equity as needed.
Or you could consolidate several credit card accounts into one credit card. Make sure the new card has a lower interest rate and accepts balance transfers.
Side Hustles: Delayed ROI, But Long-Term Pay Off
The above ideas are ways to make or claim money — from a few dollars to a few hundred — each month.
But if you live in an expensive city, you might need to increase your revenue streams long-term. Many millennials have two or three side hustles that bring in substantial income.
But these won't be quick fixes. They'll require more of an investment from you, either in time or money.
If you're looking to really work toward financial freedom, then there are plenty of opportunities to make more money from home.
Blogging, for example, can bring in a large amount of revenue, but it will take some time to generate income through affiliate marketing and advertising.
Learn how you can start a blog in 15 minutes for less than a cup of coffee per month.
Do You Need To Make Money Fast?
With too much information comes much disorganization. Literally millions of web sites exist to help you learn how to make money fast.
What do you do with all this information? For me, it felt like everyone was trying to sell me something in my journey to make money. Furthermore, there were pages with titles like, "101 Best Ways to Get Rich Quick", or "57 Sites Online That Will Make You Money Fast".
I didn't want 57 ways to make extra cash. I needed fewer options. I wanted just a few actionable steps that I could take to make a realistic amount of extra income.
The above ideas worked for me, so my hope is that these easy ways to make money will work for you too!
Luckily, 2020 offers tons of apps and technology to make an extra 500 dollars fast.
Reducing Your Spending Will Help
And then there's the other side of the equation: If you could spend less money and save more as a result, you might find the extra room in your budget you need.
You might not be ready quite yet, but making a habit of saving and investing can pave the road to financial freedom.